This document contains notes about the ITarian Platform release and the changes that could cause issues or major change requirements for our users.
Information below is provided in advance allowing all required steps to be taken to either stop possible issues with your environment or limit the effects a "breaking change" will cause.
Android MDM Applications via Profile
In the current MDM abilities for Android, ITarian has an application store where you can add the desired applications you want to the platform. Doing this meant the applications added were shown or delivered to every Android device with no granular control.
This meant if you are an MSP, all your different companies got the same application list, or if using our Enterprise version all devices within your company got the same list.
We recognise this is not very flexible and does not give your MSP or Enterprise the ability to control who can see or have installed what application. To resolve this, we are removing the functions within the Android application store to publish or make mandatory the applications.
Instead, the application store will be your area to add applications to the platform, so they are available to be used within profiles.
Once an application is listed within our app store you will be able to add this to your profile as either a published or mandatory application in the same manner as you can now.
Doing this allows you to control exactly which devices get what settings by the profile(s) you assign them.
Unfortunately, this change to the platform is something we cannot automate for you. Due to this you will have to follow the below steps in preparation for the release, and after the release make any changes required.
Make a note of all your applications added to the Android store (Including any modifications to apps imported from the Google Play store).
Make a note of all the devices that have the applications already installed as you might have to re-install these applications.
Place a reminder in your calendar for 19/09/2023 (US) & 20/09/2023 (EU) to perform any manual actions required.
To manage applications for Android under the new layout please follow the below steps: -
(Please be aware that screens might differ slightly upon release)
1) Inside
Endpoint Manager
expand
Application Store
and click on
Android Store
.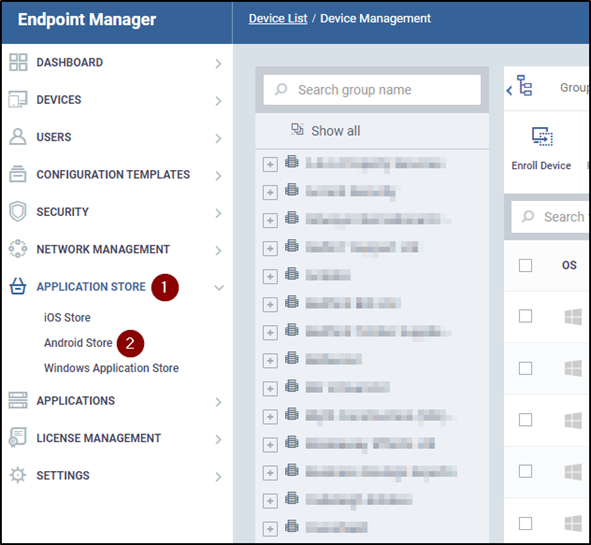 2) Add the applications you want to be available by uploading the APK or grabbing it from the Google Play store.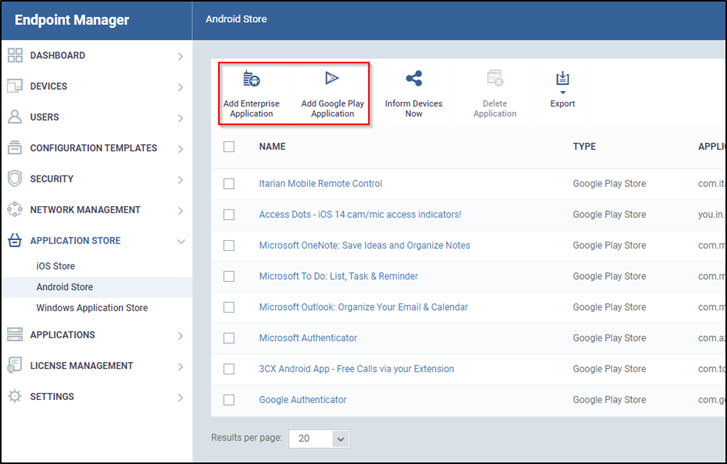 3) Expand
Configuration Templates
and click on
Profiles
.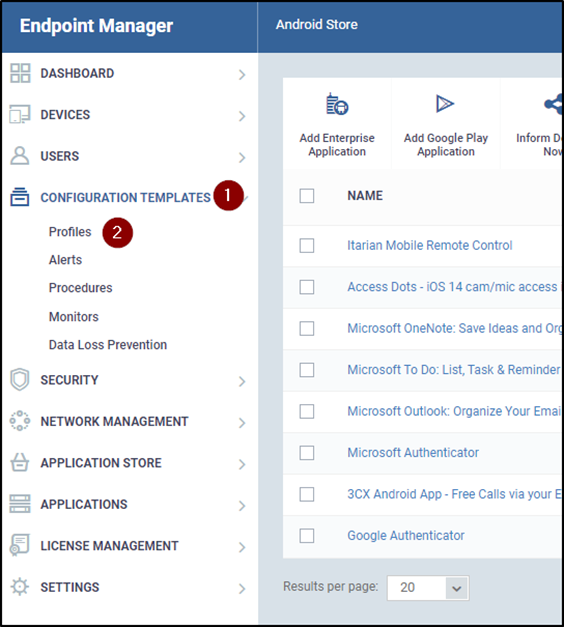 4) When in your profile, add the new
Applications
section.
5) Inside the new
Applications section
, add the applications you want the profile to deploy; and specify if they are published or mandatory.